Justin W. Miller, M.D. is a highly skilled, board-certified, fellowship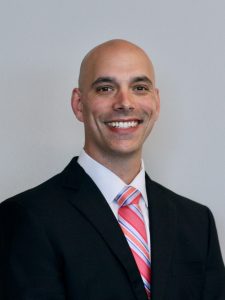 trained orthopaedic spine surgeon. Dr. Miller's fellowship consisted of 18 months of training with world-renowned spine surgeons Rick Sasso, M.D., Thomas Zdeblick, M.D., Paul Anderson, M.D., and Cliff Tribus, M.D.
Dr. Miller specializes in spinal disorders, such as: disc herniations, arthritic/degenerative processes, spinal stenosis, complex pediatric and adult kyphotic and scoliotic deformities, sports-related injuries, spondylolisthesis, myelopathy, infections, trauma, oncology, and revision surgeries. He has interests in minimally invasive spine surgery and cutting-edge spinal stealth navigation techniques, and has undergone extensive training in his field due to the complexity of spinal and neurologic disorders with a goal of providing the highest level of care to his patients.
Dr. Miller is co-investigator on a number of current studies with the Indiana Spine Group. Research interests include degenerative disc disease, infection prevention, lumbar stenosis, and osteoporosis, to mention a few.
Education
Medical School
Indiana University School of Medicine
Indianapolis, IN
Residency
Orthopaedic Surgery
Indiana University School of Medicine
Indianapolis, IN
Fellowships
Spine Surgery
University of Wisconsin
Madison, WI
Spine Surgery
Indiana Spine Group, PC
Carmel, IN
Certifications & Memberships
Board Certification
Orthopaedic Surgery
American Board of Orthopaedic Surgery
Professional Membership
American Academy of Orthopaedic Surgeons
Awards & Recognition
Justin Miller, M.D. recently attended this year's Cervical Spine Research Society meeting and was voted to become a member of the society. This is one of the most prestigious societies for advancement of cervical spine disease and is an honor and privilege to be a member of.
Videos